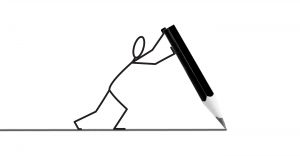 It is often said that writing is a combination of talent and hard work. Some say it is talent that is more important, while others say it is the hard work that pays. Without going into this unending debate, I will let you answer this question for yourself, "What do you think is more important : talent, or hard work?"
Being talented in very simple terms means that you were born to write. You have the gift of the muse, and whatever you might do for a living, you simply have to write something every now and then. To some extent, all of us have that gift, or at least most of us. This is the most probable reason why blogging has become so popular today.
If you, however, hope to write regularly – for your blog or professionally – I sincerely doubt that just being talented will serve you.And, If you still believe that you are a born writer, you need not read any further.
If mere talent is not enough to become a blogger or a writer, what else do you need?
There are a lot of things that you need. No two people are alike, and therefore there are no universal rules that can be applicable to all. Contrary to what many books out there claim – and some have become bestsellers –  there are no short-cuts to becoming a bestselling writer. There are, however, general principles that will hold you in good stead if you decide to take up the pen.
Discipline – Discipline, someone once said, is what makes the world go round. Even if we look around us we see that there is a time for everything – a time for sun to rise, and a time for it to set. Writing can be no exception. You can't sit around waiting for inspiration to strike before you write your first word. You have to write the first word, and then some more, and hope that while you are doing that, inspiration hits you like a bolt from the skies. As it often happens, inspiration comes to us at the very unlikeliest of times and goes away simple because we are not prepared for it. Don't let that happen – be disciplined, and I am sure you will be ready for inspiration when it decided to hit you, and you will be able to write much better and more regularly.
Reading Habit – As I have often said before on this blog, starting to write does not mean that you stop reading. In fact, after you start to write, the reading should increase manifold. There are many ways in which developing a good reading habit can help your writing. I won't go into details here, because that would make up an entire post unto itself.

Write every day

– This is the most often quoted, and the most neglected aspect of writing. Just think about anything you are good at, and then think about the time you devote to that activity. I am sure that you try and do that thing everyday. This is true for writing too – If you want to get better at it, do it every day, and more than once every day if you can.

Join a writing group

– Writing can sometimes be boring. I have at times felt the uselessness of it all. If you are not writing for any specific purpose you just might not want to write. After all what is the use of writing anything, if no one is going to read it. A writing group can come in handy at such times. Though it is important to ensure that the writing group you join comprises of serious writers, or you might end up wasting a lot of your time and that is the last  thing you want to do.
These four principles of writing are not the end, but merely the beginning. Once you have managed to master these, then you can move on to customise them further to suit your own needs.
Do you have any rules, principles, or habits, that have helped you in writing regularly?