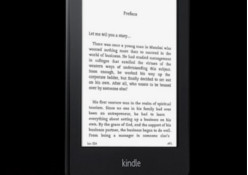 Till date, I have never read a complete book on an electronic device of any kind. But, that is about to change as I recently acquired a Kindle device. One of the advantages of Kindle is that the eBooks are cheaper than their printed versions. In fact, there are many great books that are available for free on Kindle.
Here, I have compiled a list of 35 great novels that are available for free on kindle. Now, you have no excuse not to read them.
1. Don Quixote  by Miguel De Cervantes
2. Pilgrim's Progress by John Bunyan
3. Robinson Crusoe by  Daniel Defoe
4. Gulliver's Travels  by Jonathan Swift
5. Tom Jones  by Henry Fielding
6. Tristram Shandy by Laurence Sterne
7. Emma by Jane Austen
8. Frankenstein  by Mary Shelley
9. Nightmare Abbey by Thomas Love Peacock
10. David Copperfield by Charles Dickens
11. Wuthering Heights by Emily Bronte
12. Jane Eyre by Charlotte Bronte
13. Vanity Fair by William Makepeace Thackeray
14. The Scarlet Letter by Nathaniel Hawthorne
16. Moby-Dick by Herman Melville
17. Madame Bovary by Gustave Flaubert
18. The Woman in White by Wilkie Collins
19. Alice's Adventures In Wonderland by Lewis Carroll
20. Little Women by Louisa M. Alcott
21. The Way We Live Now by Anthony Trollope
22. Anna Karenina by Leo Tolstoy
23. Daniel Deronda by George Eliot
24. The Portrait of a Lady by Henry James
25. Huckleberry Finn by Mark Twain
26. Dr Jekyll and Mr Hyde  by Robert Louis Stevenson
27. Three Men in a Boat by Jerome K. Jerome
28. The Picture of Dorian Gray by Oscar Wilde
29. The Diary of a Nobody by George Grossmith
30. Jude the Obscure by Thomas Hardy
31. The Call of the Wild by Jack London
32. The Wind in the Willows  by Kenneth Grahame
33. The Rainbow  by D. H. Lawrence
34. The Good Soldier by Ford Madox Ford
35. The Thirty-Nine Steps  by John Buchan
I hope this list is helpful. I have read some of these books before, and some I am going to. But, I haven't read the Kindle version of any of these books yet. So, if there is any problem with any of the books on the list, please feel free to drop a comment.