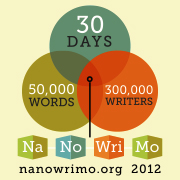 It is that time of the year again when you have to decide whether you are going to take part in the NaNoWriMo or not.
Every year for  the last few years I have decided that I will. Unfortunately, I have not been able to achieve the goal of writing 50,000 words in a month every time. But, I have done that at least once, and that keeps me motivated to attempt NaNoWriMo every year, and I have decided that I am going to try it this year as well.
In fact, I have decided that I am not only going to try, but win the NaNoWriMo this year.