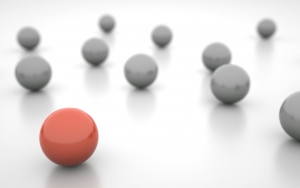 A few years back, I was narrating a story I was working on to a friend. After patiently listening to my story, he suddenly sat up straight, and asked, "Have you copied it from somewhere? It sounds like something I have read before."
You think that you have come up with a great story, and your friend accuses you of Plagiarism. There are very few things in life, let me tell you, that can irritate you more than such an accusation.
I, naturally, asked my friend about the part of my story that sounded copied.
"All of it," he said in a matter-of-fact tone. Then he continued to tell me how my story was a copy of the so many stories he had read before.
"Your story has a hero, who gets into trouble with a few bad guys, and in the end manages to solve all of his problems easily. Isn't that how all stories go?"
For a while, I was troubled by what he said, because what he said was true.
I had to ask myself how my story was different from the so many others that have been written before me.
Eventually, however, I saw light, and realised that the search for uniqueness is something that may have ended many a writer's careers.
The Fact is: There is almost nothing that has not been written before.
Maybe, if you keep writing long enough, you may be able to write something truly unique, but till then you will have to make do with whatever you can write. If you keep waiting till you come up with something unique, your wait may well last forever.
Stories are like finger prints.
On the face of it all fingerprints seem alike, but the reality is that the six billion people on our planet have unique fingerprints, and no two people have the same finger prints.
Similarly, the basic ideas behind the stories we write may be similar, but each story becomes unique when we add our own touches to the story. These touches are a result of our life experiences, and our reaction to these experiences. All of us come across different situations in life, and the way we deal with these situations is also different.
When we begin to use these experiences in our writing, our stories start becoming unique. We may take a familiar plot, and add to it our own style, and the result would be unique.
An excellent example of this phenomenon can be seen in James Cameron's Avatar. The basic premise of the movie is nothing special – the rogue hero infiltrates the enemy camp, falls in love with the enemy, finds true love, has a change of heart and, in the end, good defeats evil.
However, anyone who has seen the movie will definitely agree with me when I say that the movie was something that none of us had ever seen before.
So, stop worrying about trying to be unique, because whatever you write in your own style will automatically be unique. Wouldn't you agree?
(Image: 7rains from sxc.hu )