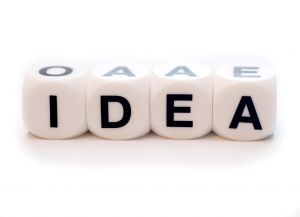 Ideas are strange beings, and usually with a life of their own.
Sometimes, an idea will take control of you completely until you are forced to act on it, and at other times an idea will flit across your mind so quickly that you won't be able to understand what it was.
I have always wondered about the origin of ideas. I also feel that no idea is original. Every idea that we have has its origin in something we have read, heard, seen or felt at sometime or the other in our life.
Even the best of us cannot create anything, not even ideas, out of thin air. There has to be something to work with and work upon. In the case of ideas, the tool that we are working with is our brain and to generate great ideas we need to provide the tool with great raw material.
The raw material for ideas is the lives we lead.
The books we read, the stuff we watch on TV, the things we do with our friends, the things we do when no one is watching us – all these things define the direction our thoughts take, and ultimately determine the ideas that come to our minds.
In order to ensure that we have great ideas, or even the right ones, it is a prerequisite that we lead great lives, or at least a life where we expose ourselves to as many new and novel experiences that we can. It is also important that we lead a life where we do more right than wrong, and where the people we are surrounded with, real or virtual,  do the same.
I guess if we do that we should be able to generate quite a few ideas and some of them will be good too.
 What do you think?
(Image courtesy: hisks from sxc.hu)